The Sydney sprint coach credited by David Warner after his triple century has revealed he is a stunning 1.5 metres faster over the length of the pitch than he was five years ago as it emerged the opener ran the equivalent of a half-marathon with bat in hand in Adelaide.
Roger Fabri's clients have included many elite rugby league players such as past and present NRL flyers Damien Cook, Josh Addo-Carr and Jarryd Hayne but he says the level of Warner's improvement has been staggering.
That was on display in the one-sided second Test against Pakistan in Adelaide where the most striking characteristic of
Warner's record-breaking 335 not out
was not his swinging of the bat but his pace, urgency and endurance between the wickets.
The supremely fit 33-year-old has set a new benchmark in the Australian team in that respect, so much so that No.3 Marnus Labuschagne admitted he was gassed simply trying to keep up with Warner during the pair's marathon 361-run partnership at Adelaide Oval.
"I think Dave has found a metre-and-a-half [over 20 metres or 22 yards] since he started with me and that's significant," Fabri said.
"Some of my athletes wouldn't find that in a lifetime. He would probably at that point be half a metre behind the fastest player in the league. He was running it in 3.06 when he started. He's finished up doing it in 2.78."
Cricket Australia data showed Warner had run 20.921km throughout his innings on Friday and Saturday as he batted for more than nine hours. More than 80 per cent was at jogging pace, CA reported, but his speed in short bursts was a big factor.
That is an area he has worked hard on with Fabri after being introduced to him by his now-wife Candice, a former ironwoman who trained with the coach during her own sporting career.
The early morning sessions in Sydney's Centennial Park have been crucial in building the artillery, as Fabri describes it, to allow Warner to compile an innings of such intensity and length.
When he first linked up with Fabri, Warner was initially sceptical about the benefits of such specialised sprint training but he has now reaped the benefits.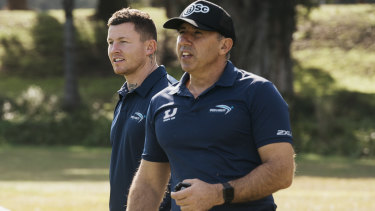 "That was the hurdle I used to find when he first came down," Fabri said. "He was like, 'Why do I need to do this? And how come you work me so hard?' I was big on him trying to be efficient and he didn't understand that. He'd say, 'I've only got to run 22 yards.' I said, 'Well if you ever get an opportunity where you have to bat for a long period of time, being efficient in your mechanics allows you to be more productive for a longer period of time.'
"This has come to fruition. We got an incredible absolute speed growth but what was really highlighted [on Saturday] was [how] good his speed endurance was. He works so hard on that. We used to have wars about 'why should we do it?'. But I think he can understand why."
Australia have also been advantaged by Warner's increased speed in the field, cutting off fours near the boundary, and as he proudly announced on Saturday night, out-sprinting teammates to the rope. He spoke with a smile about running Nathan Lyon down in the final moments of day two.
"We saw the last run there to the boundary. I outran Gaz. He's been doing nothing," Warner joked.
"For me, it's my first five steps when it's batting or fielding and making sure you've got the right technique. Anyone can build speed if you use your arms and that's one thing I try and emphasise when I'm out there. The boys give me a little bit of crap about it. But if you've got good technique, why not use it when you're out there. I pride myself on my fitness so I enjoy it. But not the 2k time trial."
Credit: SMH